my sister-in-law had a baby today. she is, of course, stunning (both baby and mother-- my sister-in-law seemed transformed...and looked about 17 years old... unrea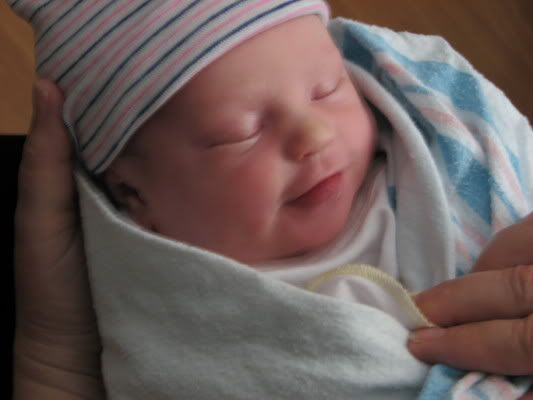 l). and it was one of the single most profound experiences of my life, holding this newest member of our world.
as don held her, we started talking about the fact that she had only been breathing for about 30 minutes. in the whole word-- in her whole little tiny life-- she's only been breathing for 30 minutes. as we gathered around her and prayed over her, i was never so distracted. on top of her loveliness, she just cooed and sighed and moved her little rosebud lips and i thought, i have held so many babies, but this one... this one is my little neice. i can't imagine what motherhood will be like.
it's an incr
edible thing, to look into the face of brand-spanking-newness. to see my husband's features in his sister's child. my brother-in-law was suddenly someone else, too, to me. we've been family, of course, since...well, since our first family lunch, when i knew by the way he looked at her that he was going to marry diane, but today... somehow, we were all tied together in that room through that little beautiful girl. and i know i'm dancing on the edge of cheesiness, but i can't help myself. it was stunning.
in other news, i am nearly persuaded that myspace is not the place i want to be posting anymore. today, a girl i know casually posted a bulletin that read something like this: "To all of you 'friends' with whom i have spoke [sic] recently, and who refuse to respond to my comments, messages, pictures or blogs, i will be deleting you from my friends list. That is all."
well, dang.
thing is, that's not necessarily an unusual bulletin--- from the 14 year olds. this was a grown woman. weird.
anyway, it's funny how much the whole thing is bothering me, though. am i really this sensitive to transition of any kind?? :) one of my housemates out in oregon used to tell me that she hated change so much and that she became so attached to things just as they are, that she had a hard time changing the batteries in her walkman (yes, 1993,4). i mean, i guess i can see that-- you remember the day you bought those batteries, when you went over to albertson
s with a good friend on your way to canon beach. or something. i'm not that bad, of course-- but then today, i was thinking of my brand new niece, listening to my husband singing "freebird" to her (yes, we are children of the 80's), and i realized that the transition i am in is NOTHING compared to what this little girl just went through. and she was just sitting back, taking it in stride, surrounded by people who love her, and who are committed to bringing her up in the most loving, amazing way (i have plans for her; the class of 2027 at agnes scott). she's transitioning from amniotic fluid to oxygen. from the pure safety of the womb to a cradle. from an umbilical cord to the breast.
and i'm trying to figure out how to close down my myspace account.